Updated: 5 June 2018
Baskets are practical, beautiful and a perennial favorite around the globe. Their versatility in color, shape and texture make them at home in any home—whether the décor is country chic, Craftsman or modern minimalism. 
And talk about recycling and reusing—wicker baskets can be repurposed in a hundred different ways. A basket may start off as a gift basket, wrapped in cello, tied with ribbon and containing all sorts of delicious, fun items. 
Once the basket is emptied out, it might be used to gather herbs, hold magazines or surround a pot of African violets. It might later morph into a desk accessory, holding pens and paper, only to be snatched away to grace a wedding reception table.. 
Part of wicker's popularity stems from the fact that it is eco-friendly, made from natural fibers and almost always grown without pesticides. And at the end of its life span, wicker will break down into the soil instead of clogging up a landfill. 
Did you know?
"Wicker" is a Scandinavian term that combines wika (to bend) and vikker (willow). It actually does not refer to a material, but instead to the method of weaving plant materials into baskets, furniture, etc. 
What is called "wicker" is most likely one of the following:
Rattan (a climbing, solid-core palm vine, of which approximately 600 different types grow in Asia) grows in between other trees and is ready to harvest in 7 to 15 years. Because rattan is so popular, whole forests that would otherwise be logged are preserved. It's sometimes grown in floodplains, making good use of that type of landscape, and saving it for animal/bird habitat. 
Seagrass (a group of flowering plants that grow under water) are grown in flooded fields and grow incredibly fast. These hard-working plants pull carbon from the atmosphere. 
Bamboo (actually a large, hollow-stemmed tropical grass) also soaks up carbon and puts out more oxygen than trees. It takes little water to grow and prevents soil erosion. The bamboo plant can grow up to 36 inches a day and to a height of 100 feet.
Willow  (a light, long-lasting wood) grows in northern Europe and parts of Canada and the U.S. It also grows quickly and holds moisture naturally, which aids in the weaving process.  
With proper care, wicker baskets are long lasting. Excavation of Egyptian tombs resulted in the discovery of baskets that are estimated to be 4,000 years old! Since ancient times, baskets have traveled around the world. 
"Over time, as baskets were traded between tribes, the weaving methods were exchanged and different cultures adopted new techniques. This is why you can see Asian weaving methods in very old European baskets."
Kendra Murphy, "Discover: Wicker Baskets, Ancient History and Modern Future"
GOOD TO KNOW: Almac imports baskets from China, Vietnam, Taiwan, the Philippines and Indonesia. Southeast Asia is home to artisans who know almost every basketry technique known to man, and are renowned for their design expertise and skill.
Since wicker is attractive, kind to the environment and long-lasting, it only makes sense to take care of it, right? But how?
First, it pays to know what the enemies of wicker baskets are. 
ENEMIES OF WICKER
Too much moisture: 
If baskets get wet, the wicker fibers swell up, which can cause them to detach and change the shape of the basket, or even fall apart.
TIP: If you spot mildew or mold on your basket, it's time to take action. Dilute bleach with water, dampen a soft cloth and gently swipe at the mold. Use a cotton swab to get into tight spaces. 
Extremely dry conditions:
Dryness can cause the wicker to become brittle and fragile over time.
How should you care for your precious wicker baskets? Not to worry—it's not hard to do, and doesn't take much time. 
Residue:
Because baskets are such handy receptacles of, well, just about everything, it's inevitable that they will get splattered or leaked on. 
Sunlight:
A constant dose of sunlight will dry out your wicker basket and cause it to fade and crack. If at all possible, keep baskets out of the direct sun.
FUN FACT: One of the more creative uses of wicker can be found at the Merion Golf Club in Ardmore, Pennsylvania, where instead of using flags on the flagsticks, they use wicker "domes." It's a tradition that is reportedly stolen from European golf courses. A bonus is that wicker lasts longer than the flags, which are prone to tattering in the brisk wind. 
TAKING CARE OF WICKER
Dust bunnies, be gone!
Dust frequently. Use a feather duster or soft brush that can get into the nooks and crannies of your basket. Keep some tweezers handy to pull out lint or dirt. A damp cloth can be used to lightly clean the wicker surface. 
Another option is to use the upholstery brush attachment of a vacuum cleaner to remove dust and fine particles.
Cleaning, the eco-friendly way
Occasionally a basket will get splashed or coated with something that means you have to go at the cleaning with a little more fervor. Keep it simple. Take a soft cotton cloth and wet it slightly with plain, cold water. Wipe the wicker firmly, but not aggressively, to remove the residue. 
Climate control
If you live in a very dry climate, do your baskets (and skin) a favor and use a humidifier. Another option is to put a thin coat of furniture wax on the wicker, giving it some added moisture and protection.  
DIY Basket Repair
Fix small splits and broken places in the basket with wood glue. Using a toothpick, spread glue on the broken fiber, then tuck it into place and hold for a minute or two. 
NO END TO THE VARIETY
Baskets can be:
Classic – like this oval fruit basket with handle, constructed of split willow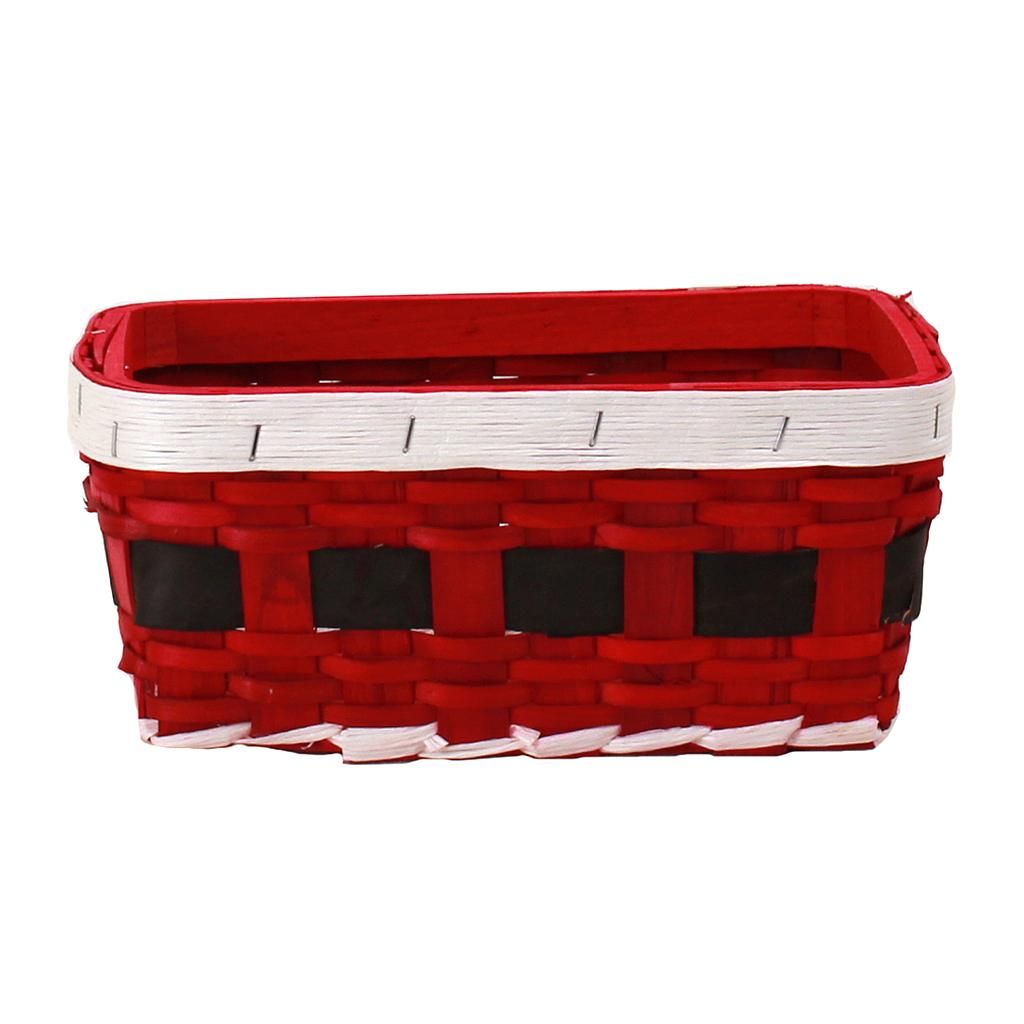 Whimsical – likeWhimsical – like this red "Santa's Belt" basket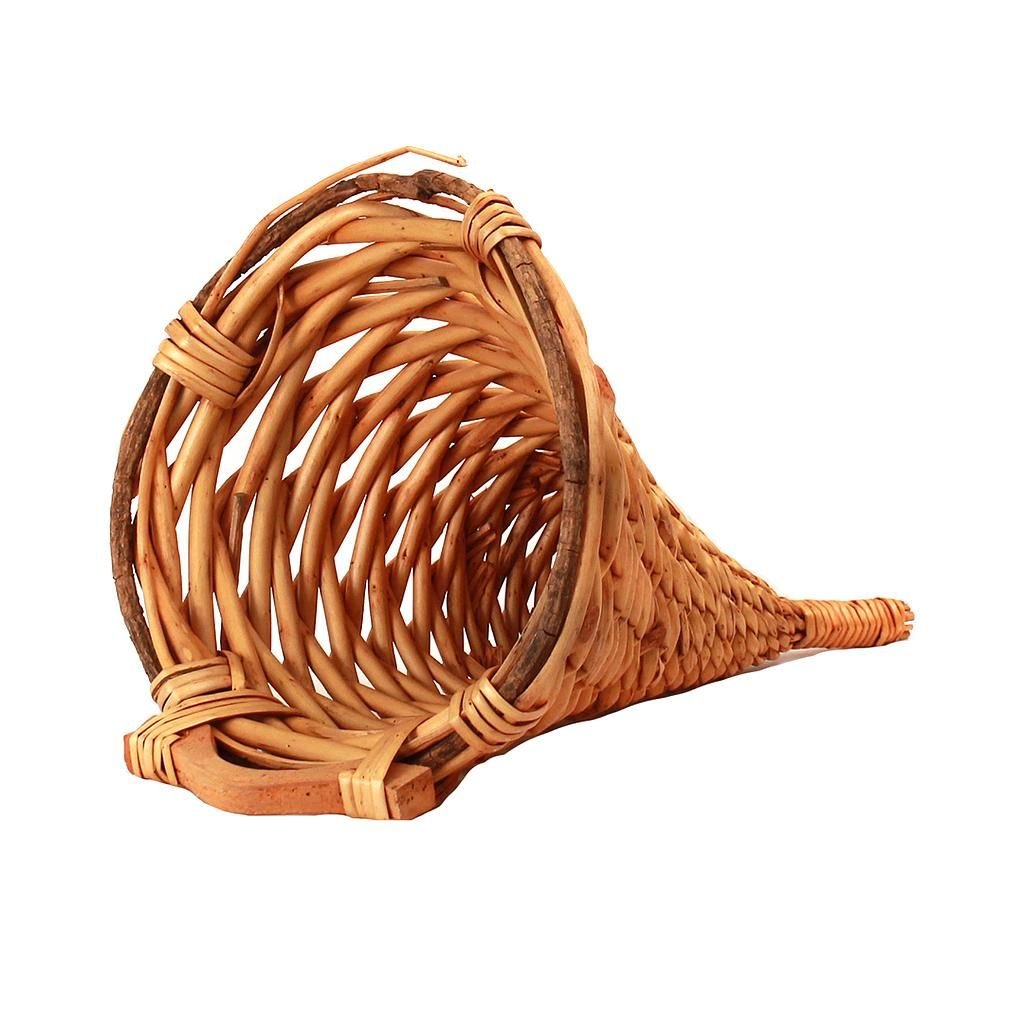 Uniquely shaped – like this whole willow cornucopia with handle

Protect your wicker baskets
A word of caution: wicker baskets can look mighty chewable to pets (so crunchy!), so keep the basket out of reach. If you notice your cat or dog nibbling on the wicker, try spraying him with water to discourage the behavior. 
One great way to protect your baskets is to line them with fabric. There's nothing better to keep the interior of your basket tidy, and when the liner gets soiled, you can launder or replace it. Choose a simple white material, or use fabric that coordinates with the room's décor. For instructions on making a basket liner, consult this Homeguide post at SFgate.com.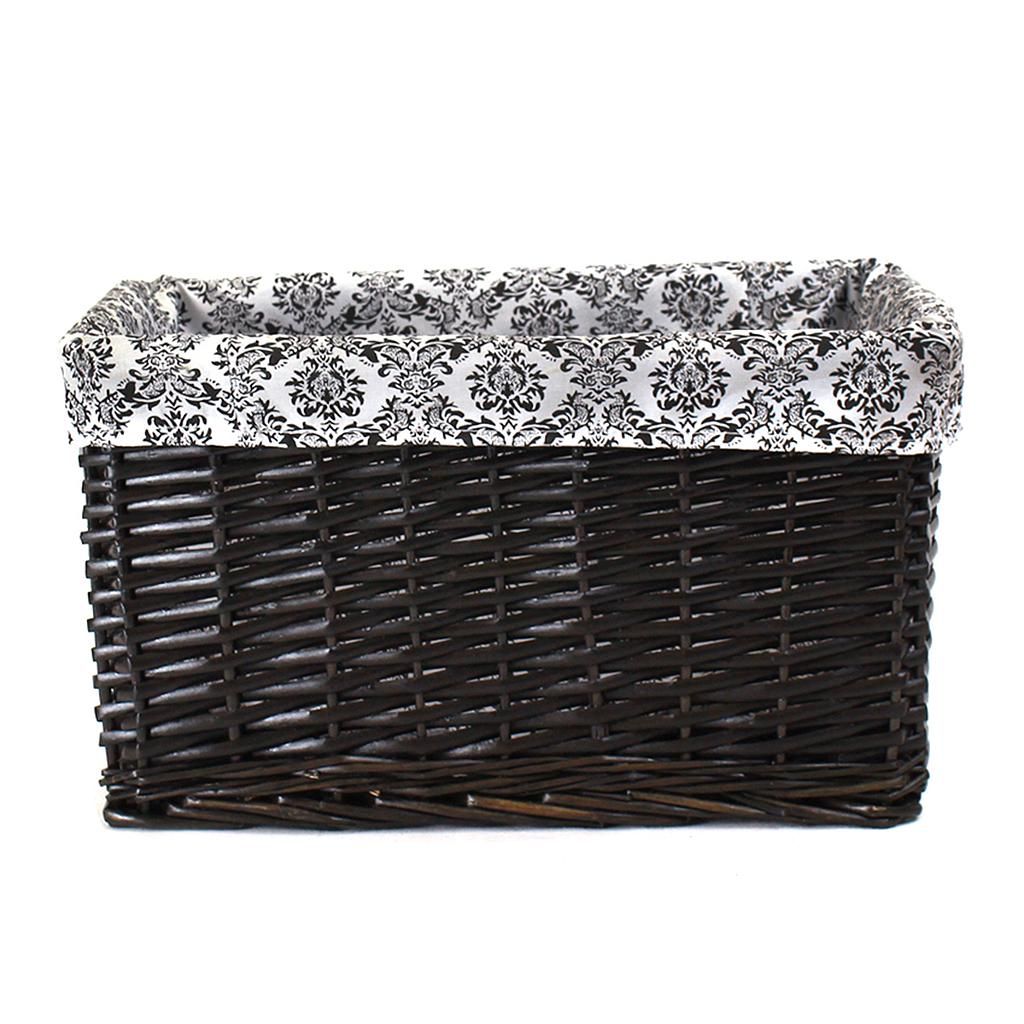 Or if you'd prefer, some baskets can be purchased with a liner already in place, like these black baskets with elegant black & white print liner.
FUN FACT: The Potawatami tribe has a legend that involves an old woman who lives on the moon and weaves baskets. It is said that when she finishes weaving the basket she is working on, the world will end. Fortunately, a dog (actually the eclipse) keeps chewing up the basket, keeping the old woman from finishing her work. 
THE OTHER OPTION
There are times when natural is not better, and you require something more sturdy, easy-to-clean and food safe.
Almac Imports has foodSURV plastic wicker baskets that are durable, washable and mold & mildew resistant. These baskets are constructed of 3 mm and 5 mm polypropylene and the result is a product that is really tough. These baskets come in a variety of colors: natural, honey, brown and black; shapes: oval, round, square and rectangular (plus a high-in-back, low-in-front bakery basket); and sizes ranging from 8 to 26 inches.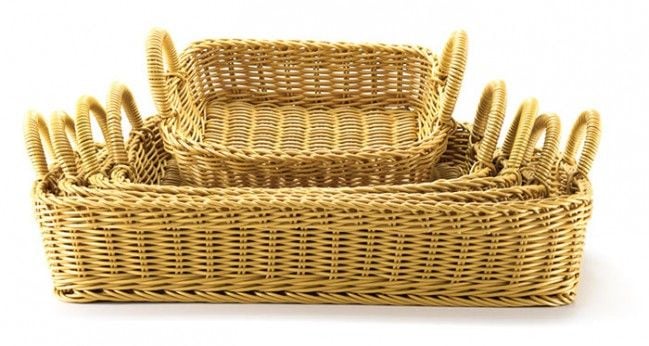 The look is still wicker, but these baskets will go the distance, regardless of what you use them for. 
CARE PAYS OFF
With a bit of attention and the right kind of TLC, the beauty and utility of baskets can be preserved, and your wicker baskets can go on to serve many more creative uses. 
At Almac Imports, we've got the wicker you need, and our baskets are of artisan quality, but sold at wholesale prices. 
GOOD TO KNOW: How does Almac measure wicker baskets? Watch this video for the inside scoop!
You'll be happy to know that Almac's service is top notch too, as evidenced by our customer ratings. (On Trustpilot.com, we have maintained a 5-star rating, from over 230 comments.)
"I used Almac Imports for the first time to order baskets for my daughter's wedding. I made a few calls and I was very happy with the patience and even the ideas they gave me."
Customer comment on Trustpilot.com