Looking for an alternative to tissue? Do you want to liven up your gift baskets, displays and other creative projects? Then it's time to expand your use of shred. It's a fun, versatile material that is quick to use—just fluff, stuff and go.
You have questions about this product; we have answers. Starting with…
WHAT IS SHRED?
Shred is a term for shredded paper, cellophane or wood that is used for packaging and decorating. It's a product that adds distinctive color, texture and style to your projects, and can be selected to match any theme or color scheme. And we mean any--Almac offers 34 in-stock Pantone® matching colors and can work with you to create custom blends.
Shred is the perfect choice to showcase your product or gift items, especially when they need some extra care to avoid breakage.
Timely Tip: Fluff away!
Our shred will come to you in 1, 5, 10 or 40 pound bags or boxes, depending on the type. The product will be crammed inside the bags tightly, so be sure to fluff the shred when you pull it out of the bag. This is how you can create the volume you desire and stretch the product, saving money.
WHO USES SHRED?
Use Almac's shred products, and you'll be in very good company. The list is long and includes:
Gift basket, floral and catering businesses
Restaurants and bakeries
Grocery stores
Packaging consultants
Crafters
Scrapbooking aficionados
Trade show booth designers
Winery owners
Window dressers
Gardeners
Teachers
…and more.
HOW MANY TYPES OF SHRED ARE THERE?
Lots. Which is great for you, because it means you have so much to choose from. Let's take you on a tour of the wonderful world of shred from Almac Imports Ltd.: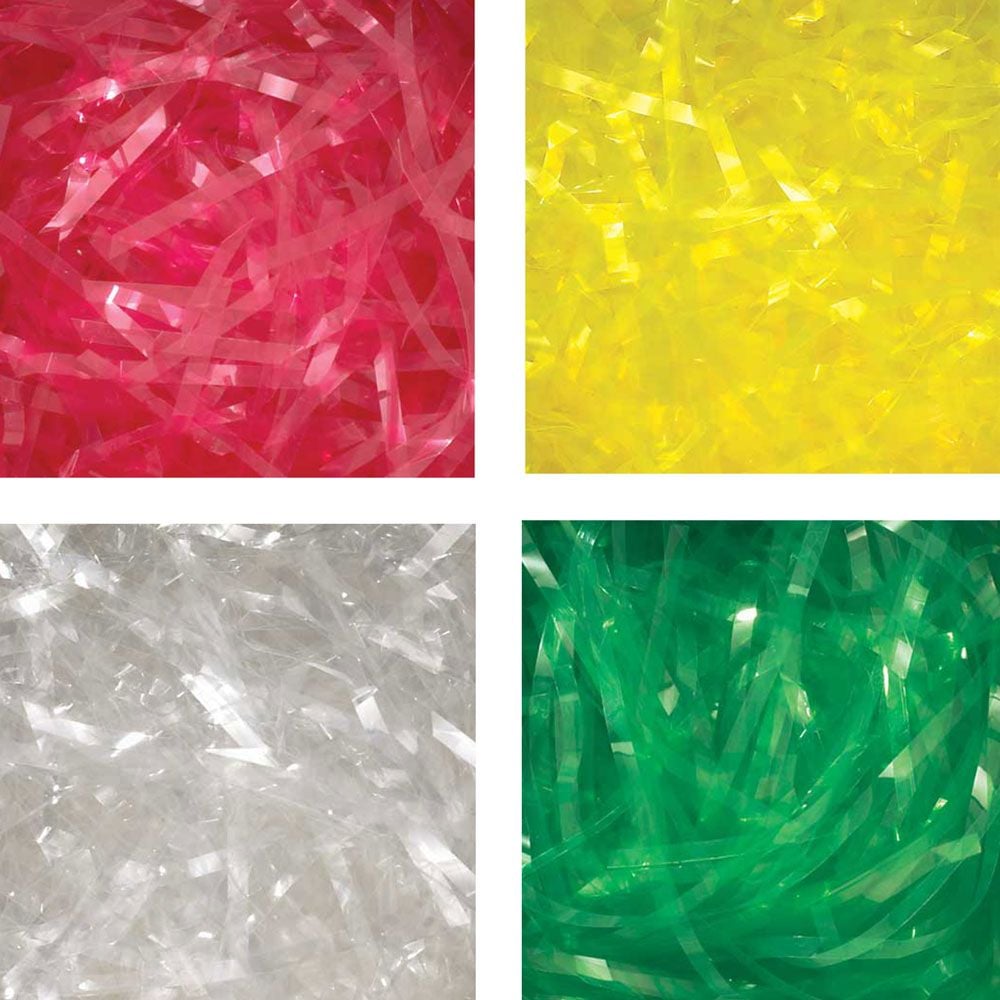 Long, elegant strands that shine make cello shred a good choice when you want a fluffy, light-catching product. Cello shred is a favorite for use in festive centerpieces for weddings, Christmas galas or New Year's Eve parties.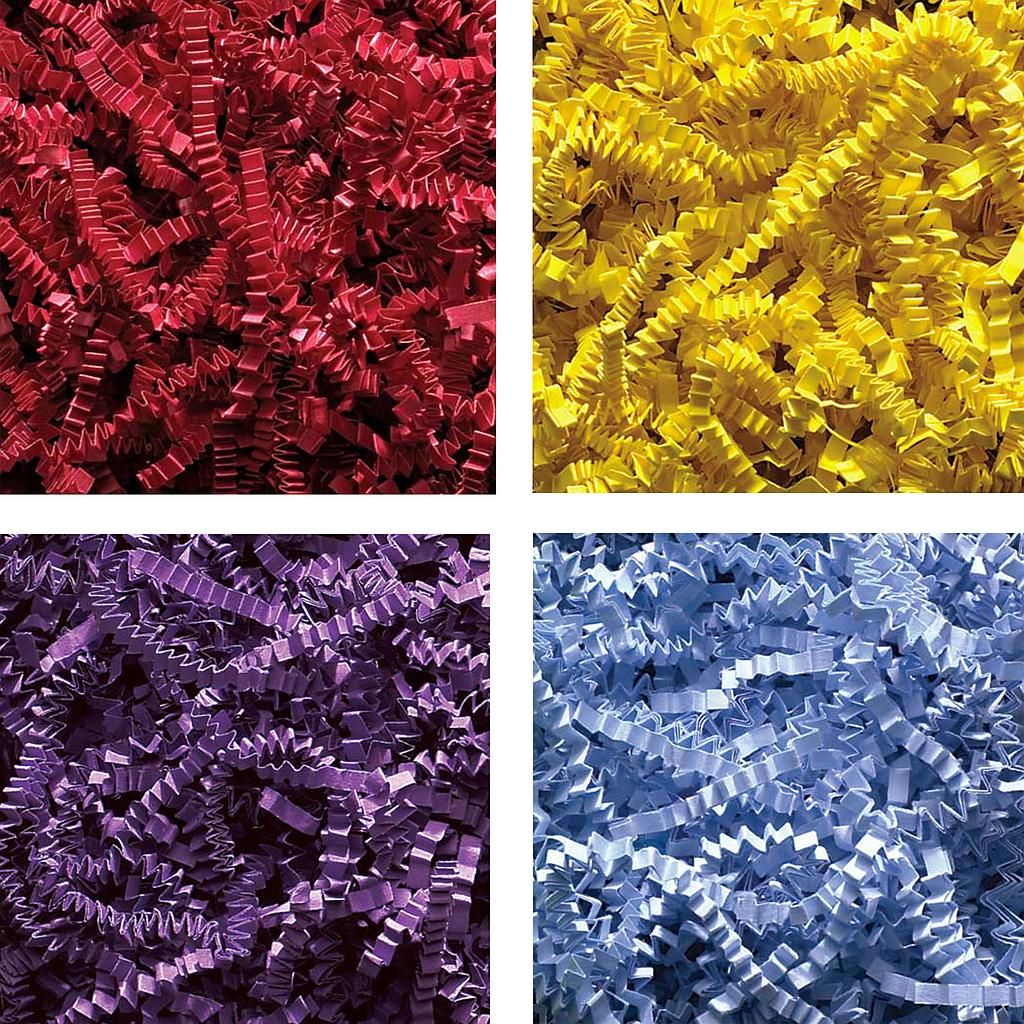 Crinkle Cut
With this product, the paper strips look like small accordions. Their whimsical shape makes crinkle cut shred a good choice for kid packages or for fun events like Halloween and Easter.  It's designed to separate and hold things in place and is less abrasive and lighter to ship than wood excelsior.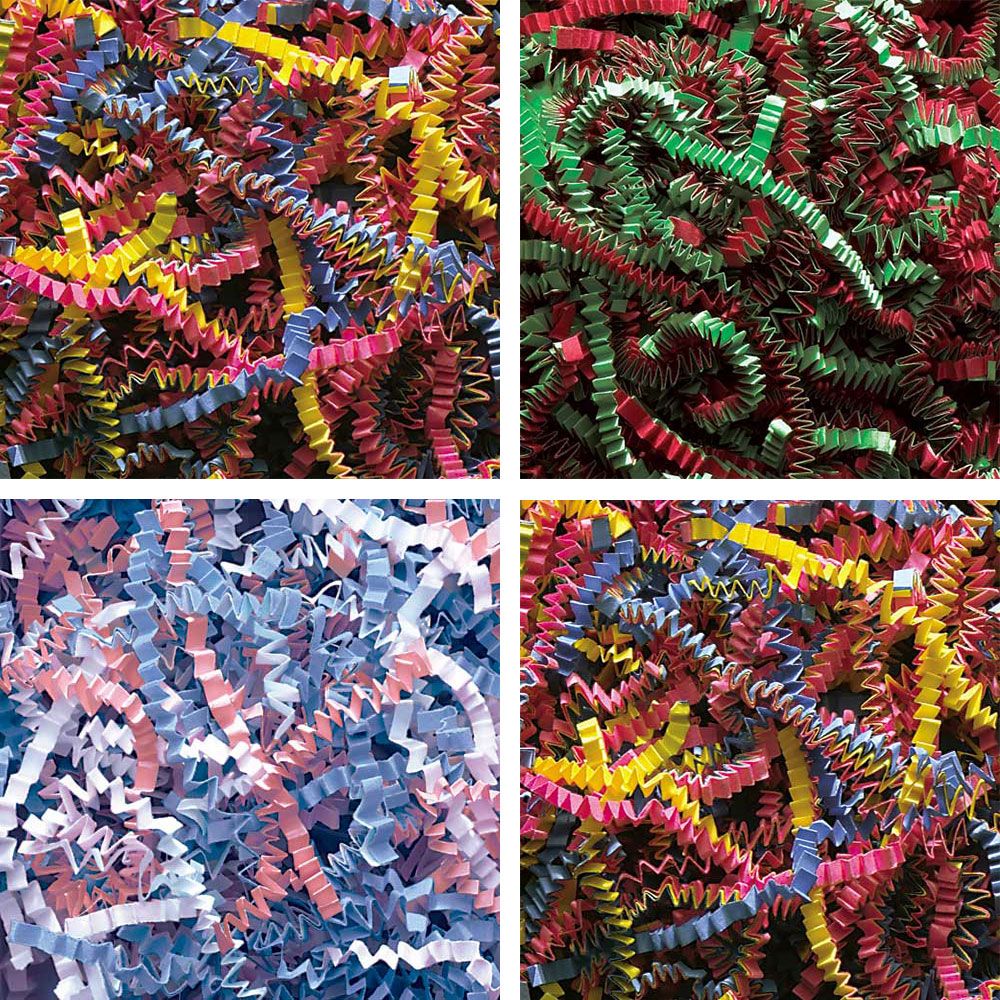 An accordion that is a mix of two colors, this shred has double the impact. It comes in three kinds: the baby blend combines pastel blue and pink, and Christmas blend has the traditional red and green. The fiesta blend triples the color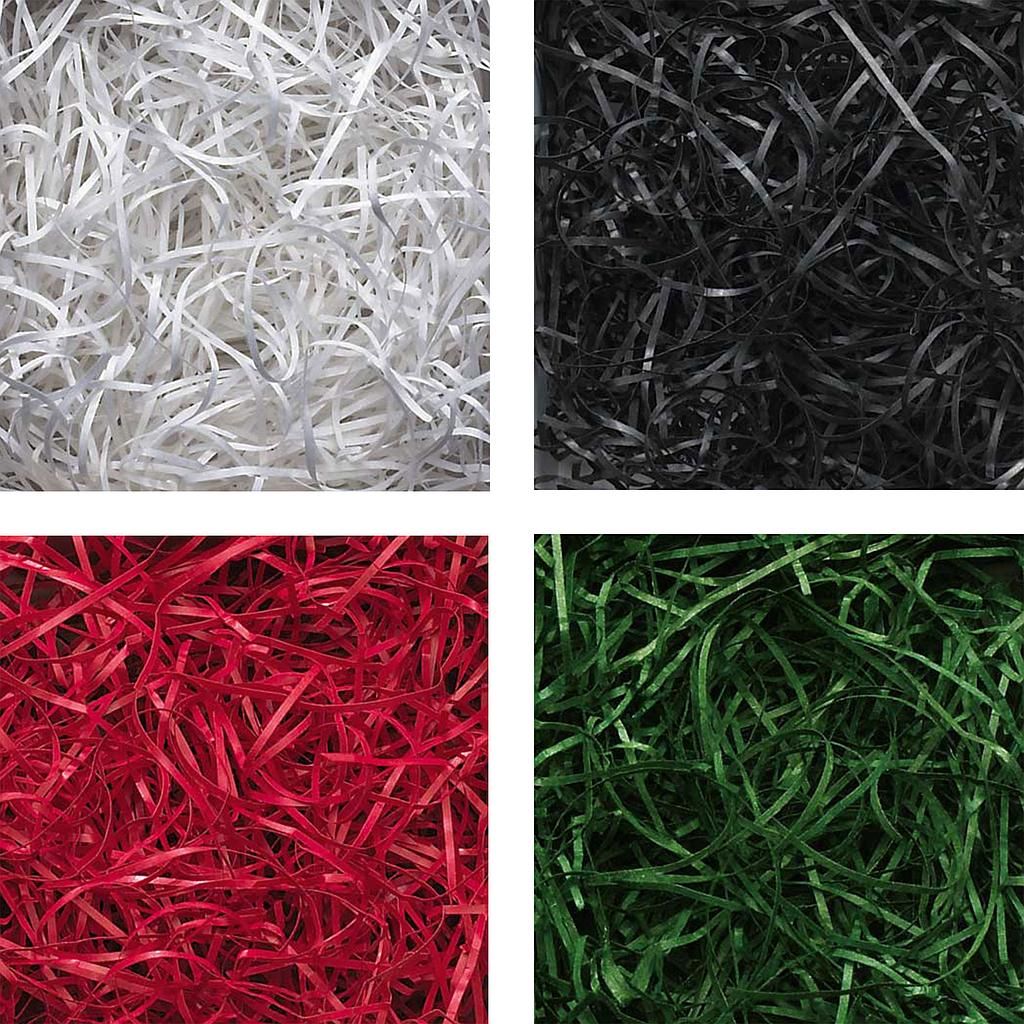 This product tucks in around your items, filling in the gaps and protecting them. The colors are vivid and easily matched to any theme or color combination.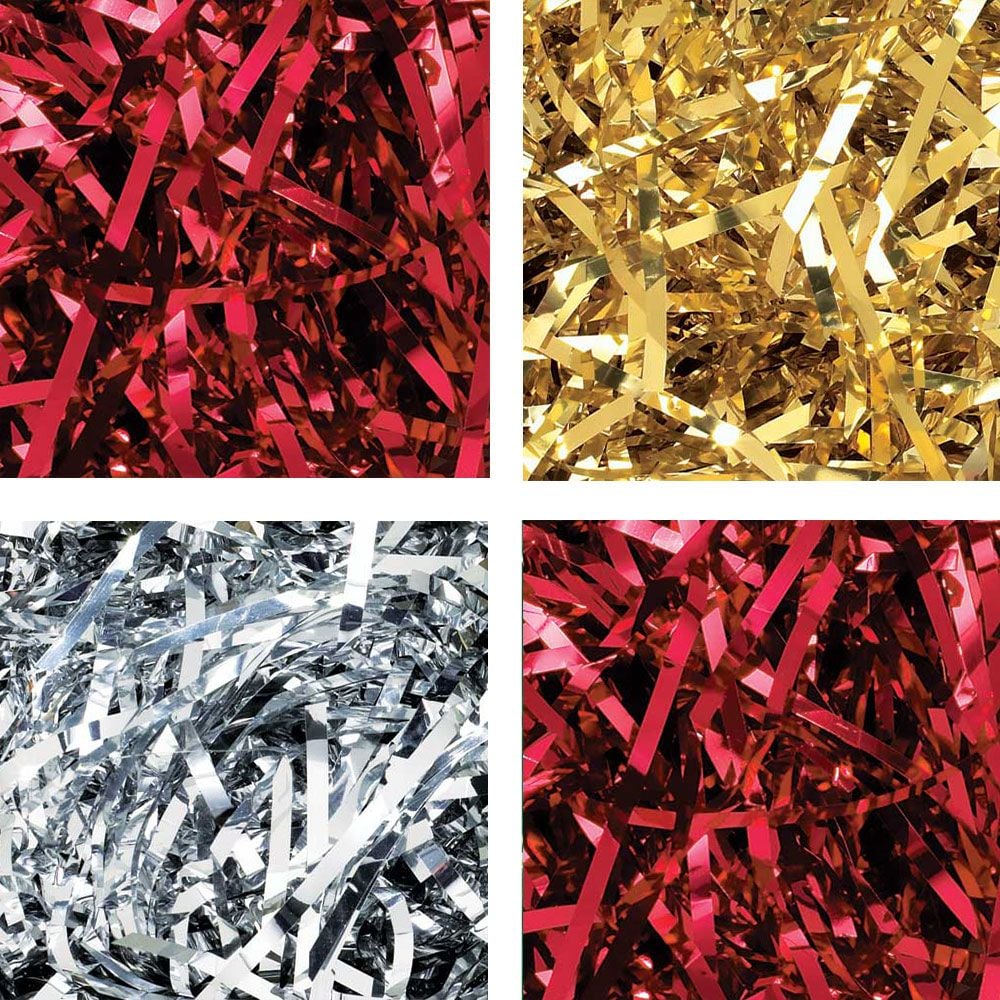 This shred adds a richness to your packaging and works well when you want to emphasize luxury. It's also popular in sports theme decorating, since it mimics the look of cheerleader pom-poms.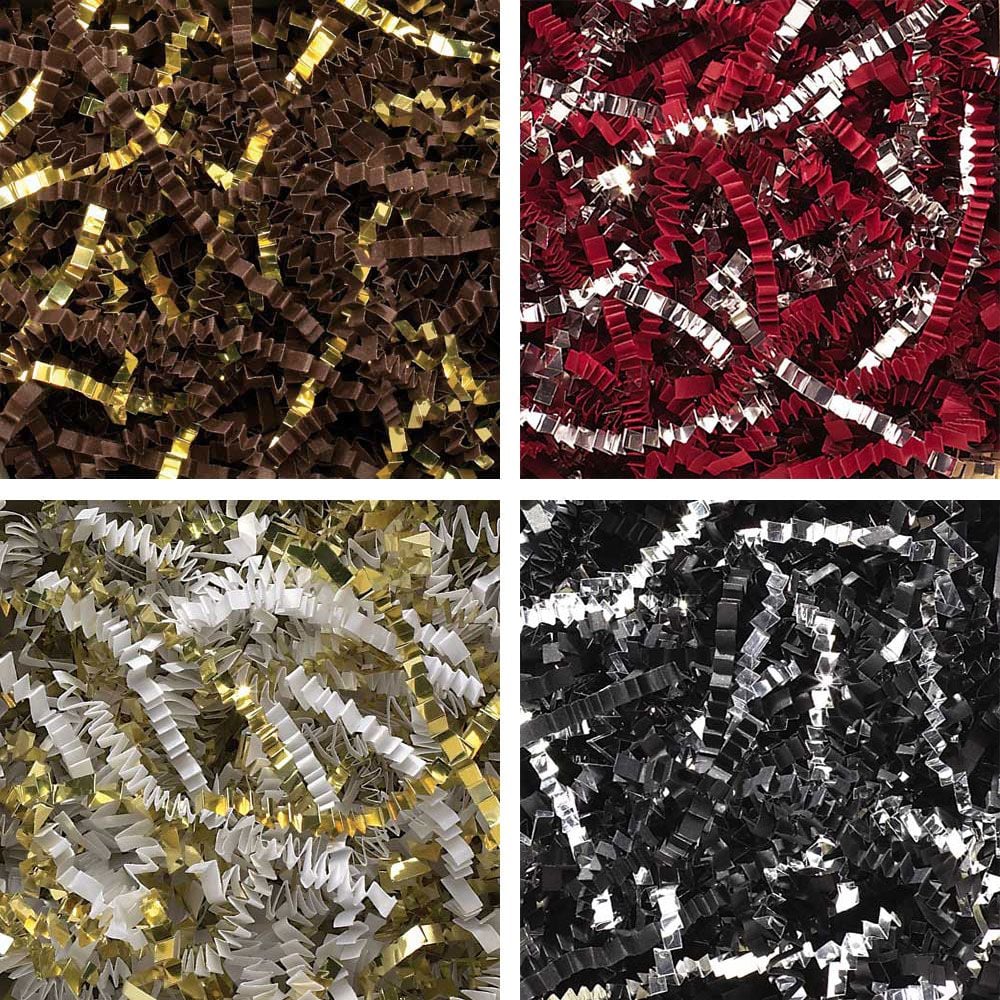 Another accordion-shaped shred, only with the added dazzle of gold or silver. Use it when you want both color and texture, plus some added glow.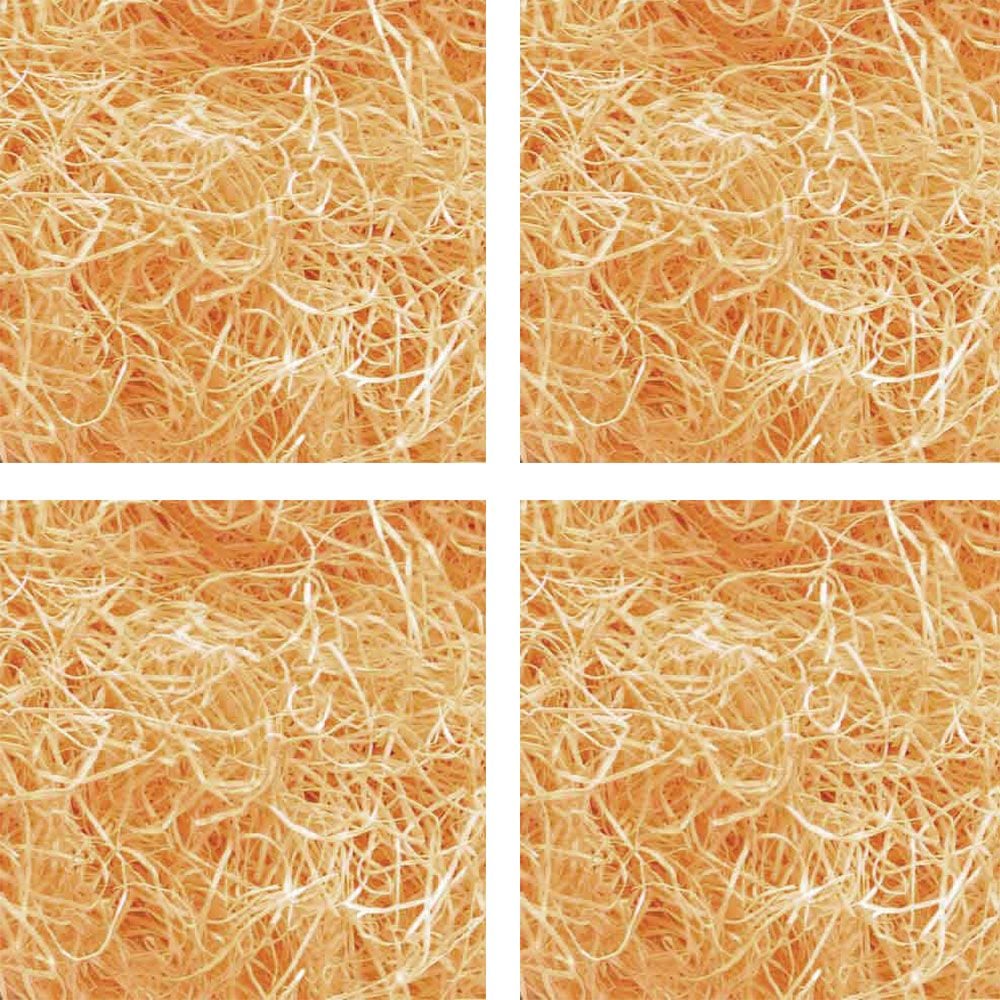 Due to its natural look, this shred is popular for displaying and packaging food products or when you want a more rustic look to the décor. This product is an economical option and offers the highest support of all of our shred types.
Timely Tip:
Cover your food - Our shred is produced with non-toxic dyes, but is not made for direct food contact. Fruit and vegetables are the exception, if you know that they will be washed before eating. All other foods should be wrapped before placing in the shred. 

WHAT ARE SOME OF THE WAYS I CAN USE SHRED?
Shred is a product that can serve myriad purposes, and so makes a great addition to your design toolkit. With shred you can package gifts, protect items during shipping or create high-end displays.
And there's more—a lot more. To get your creative juices flowing, here are a few shred-friendly ideas you can use or adapt:
Gift bags:
A basic, but crucial, use of shred is to protect and plump up the display of items in your gift bags. You might want to provide a foundation at the bottom of the bag by crumpling up some tissue paper, then using shred to surround the gift item(s).
Elegant table centerpieces:
You can extend the impact of flowers (expensive!) by adding shred to your centerpiece. Start with a glass plate, a round vase with a single rose, hydrangea or a sprig of Lily of the Valley. Then tuck your favorite shade of cello shred around the vase and you have a lovely centerpiece that won't crowd the table or block any one's view of their tablemates.
Or forego the flowers entirely (shred never droops!) and keep it simple and elegant by creating a centerpiece with a cake stand, cello shred and a candle. Just be sure to keep the candle flame a good distance from the shred—you don't need a flaming centerpiece to add to the wedding day excitement!
To show off some samples of your product, start with a basket, something like our oval-tone basket with handle, or a crate with faux leather handles. Add shred and your products. Our natural wood excelsior shred is very popular for this use, as is the very fine cut. Bread, cookies, nuts and candies all look especially tempting when laid out this way.
For garden-grown produce, a shred-nestled display of the fruits and vegetables you sell at your booth or table will entice customers to buy. A sales-promoting strategy is to combine in one basket or crate all of the produce the customer could use to create a specific recipe.
 
For example, display a salsa recipe (including copies for the customer to take along) with a basket/crate of tomatoes, cilantro, peppers (mild, medium and hot) and onions. This approach just might spark your customers to go on a salsa-making spree—using your ingredients, of course.
Sports themed table decoration:
For a team raffle or awards banquet you can create "table turf" with very fine cut shred in green. Add a football, team pennant and some metallic shred pom-poms. For extra fun put some yellow napkins in a container marked penalty flags. Go team!
Party favors:
Cello bags with a smidge of crinkle cut shred in the bottom is an ideal way to showcase your party favors for a wedding, baby shower or other special event. For a Christmas party use our
printed red-and-gold-bells cello wrap
to tie up some mistletoe that is nestled in a bed of metallic and paper shred in gold and white. You're got glitz!
Food gift jars:
A simple, but fun and whimsical idea: glue shred to the lid of the jar for a fun "curly top" look. Make the shred match the food item for extra flair—try topping a jar of pickled beets with burgundy crinkle cut shred, for example.
 
Holiday ornaments:
Clear glass balls can be found at your local craft store and then filled with some of our metallic, crinkle cut or cello shred. The result will be lots of shine to catch the lights and give your Christmas tree an extra glow! Or if you are going for an earthy look for your tree, fill the ball with our natural wood excelsior shred.

Timely Tip: Mix it up?
For added fun, mix shred types and colors. Experiment to find the best combination. This is also a way to stretch the budget, making higher-cost shred go farther by adding in lower-cost shred. For example, you could start with French vanilla & gold crinkle cut shred, and add in some less-expensive very fine cut shred in black—resulting in a classy look, perfect for a formal event.

WHAT IS SHRED NOT GOOD FOR?
Generally speaking, shred is not the material to use to create a foundation at the bottom of your basket, bag or box. For one, it isn't substantial enough, with a few exceptions.

Here's some guidelines:


Lightest--cello, metallic, crinkle cut and metallic & paper shred

If you try to use these shreds at the base of your container, it will most likely get packed down at the bottom and won't give you the lift you are looking for.

Light--Very fine cut shred
This shred can hold a bit more weight than the other shred types, and can work for lifting up lighter products.

A little heavier--Natural wood excelsior shred 
This product can hold more weight and as mentioned, works well with food products. 
Timely Tip: Find your foundation
There are materials to use for a foundation that work well and reduce the amount of shred you'll need.
Basket bases and box benches are two handy products that are designed to fit down into a box or basket. The firm, jiggle-free support they provide keeps items from shifting during delivery and shipping. They come in various shapes and sizes, with or without backs.
Brown kraft paper—easy to find and inexpensive. Wad this paper up and pack it down into the bottom, and it will hold your articles up handily.
Clean newsprint—easy to crumple and stuff into your base. Be sure to use only the non-inked variety (sometimes can be obtained from your local newspaper) to keep your hands and products clean.
So we hope we've made it obvious—shred isn't your go-to material to create a foundation. Rather, you should think of shred as an embellishment material, designed to set off items in a colorful and festive way.
 
HOW MUCH SHRED SHOULD I ORDER?
In general, a pound of shred will give you about 30 small handfuls. If you want to make sure to have enough—but not an overstock—of shred for a specific project, the best way is to create a mock-up, using a sample of the shred.
 
Design your gift set exactly as you want it to look. Then remove the shred and weigh on a small mail or kitchen scale. That will give you the correct weight per gift set. After that simply multiply the weight by the total amount of gift sets you are going to make.
 
Voila! You now have the total amount of shred needed. Always round up to the correct box size and allow for a bit extra so you don't run out.
 
Timely Tip: Sample some shred 
For a large-scale project you might be unsure about which shred(s) to use. And you wonder--is the shred I'm looking at really the right color, or is my computer monitor messing with me?
The most reliable way to be sure about the product before ordering is to get samples. For a minimal cost (samples are charged at regular wholesale prices, plus shipping) you can try some shred on for size. Then you will be absolutely sure about the products before committing to a large order. Call us toll free at 1 844 922 5622 and we'll discuss the options with you.



BEST OF THE BEST, WITH NATURE IN MIND
Our cello, crinkle cut, crinkle cut blend, very fine cut, metallic, and metallic & paper shreds are all Spring-Fill™ decorative shred brand, and we have some great news to share with you about these products.
 

Spring-Fill™ lowers the carbon footprint of these products by using only 100% recycled content from paper mills with Forest Stewardship Council (FSC) Chain-of-Custody Standard certification.
 

A bonus with all of our shred products except cello and metallic is that it can be composted when you're all done with it.
 

Oh, and only non-toxic dyes are used to create the vivid colors on this USA-made shred. That's important in case your toddler or terrier decides to give your shred a little lick.

The color variety of this shred gives you tons of options. Or maybe you need to match a unique color or create a custom-blend shred? We can help you with that too.

 


THAT'S THE SCOOP So shred on, and let us know how we can help.
 

At

Almac

, we make ordering this fun and versatile product easy, and because we know that time is always of the essence for our busy customers, we'll ship out your order within 24 hours of receiving it. Place your order before 11 am, and chances are your package will ship that same day. 

And remember—while we know a lot about creating gift baskets, we don't sell them, unlike some of our competitors. Our goal is to help you in your business, not compete with you for customers.