There are so many details that demand your attention when you're planning a wedding. Venue, date, number of guests and attendants, reception, food… eek! And the supplies you'll need have to be ordered well in advance or you're stuck with whatever you can find during a local, last-minute dash. Hardly ideal.
Budgets can be challenging too. 
BY THE STATS
Studies show that the average cost of a wedding in the U.S. in 2017 was $33,391--honeymoon not included. (According to Weddingbells.ca, it's $30,717 in Canada.) 
A whopping 45% of couples report spending more than they had planned. 
The priciest place in the U.S. to tie the knot: Manhattan ($76,944 average); least expensive is New Mexico ($17,584 average). The average number of guests is 136. Average number of bridesmaids is 5, ditto for groomsmen. Most popular wedding colors: ivory/champagne, followed by dark blue, then gold. 
Link: https://www.theknot.com/content/average-wedding-cost-2017
WHAT ARE THE PRIORITIES?
Today's couples are focusing on three main things, according to The Knot 2017 Real Weddings Study: personalization, guest experience and cultural elements. 
Link: https://www.theknot.com/content/average-wedding-cost-2016
Personalization:
Personalization means that more people are selecting locations that fit their lifestyle and who they are as a couple. Fewer churches, banquet halls, hotels and country clubs are being booked. Engaged couples are arranging their ceremonies and receptions at less traditional venues such as  museums, ranches, wineries, urban rooftops—even waterfalls. 
Guests:
Making sure their guests have a good time has become a priority for brides and grooms everywhere. To that end they spent lots of time, effort and money on things like jazz improv at the reception, selfie stations, gourmet gin tasting and lawn games.
Traditions:
Couples also want to include their heritage, cultural and spiritual traditions in their wedding. Hawaiian leis might replace handheld bouquets. Japanese origami cranes replace floral centerpieces. A Persian honey ceremony might be used instead of the lighting of a unity candle. 
SHARING FIRE: In South Africa the hearth of the newly married couple is lit from two sets of coals—one from the bride's parents and one from the groom's.
Making sure that your wedding is personalized to you and your fiancée, that your heritage is honored, and that guests have a blast at the event, all while keeping costs under control is a tall order. 
To avoid getting overwhelmed by all the details, it's smart to take it one thing at a time.  
For today, let's focus in one thing: 
CONTAINERS FOR YOUR WEDDING
What kinds of containers will you need?
Here's a list, for starters:
Flower girl baskets
Boxes for attendant gifts
Containers for wedding welcome gifts
Greeting card holder
Table centerpieces
Confetti bags
Containers for floral arrangements
Favor bags, boxes or jars
Giving some thought to these containers, early in the wedding planning process, will ensure that you get the things you need, in the style you want, at a cost you can afford.
Did you know? Today's couples often choose nontraditional attendants. A ring bearer might be a golden retriever. Flower girls might be replaced by flower grandmas. Ushers might be male--or they might not. So don't get hung up on traditions around who should be/do what in your wedding. If you want to have your wedding rings presented on your pet turtle instead of a pillow—go for it! It's your day. 
THEME IS SUPREME
Everything at your wedding, including the containers, flows from the theme you select. To avoid a jumbled look, pick your theme early on, and then select colors, materials and containers that mesh with your theme. 
We've got some theme/container matches made in heaven, just to demonstrate how it's done. 
Starting with…
Black & White & Everything Elegant
You like your look clean and crisp, like a fine tuxedo. So it makes sense that you would pick wedding containers to match.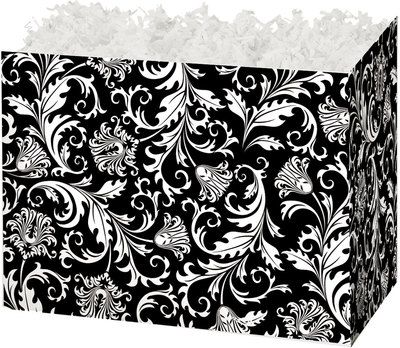 Gift box: Present your wedding attendants with their gifts tucked into this stylish gift box in black & white damask.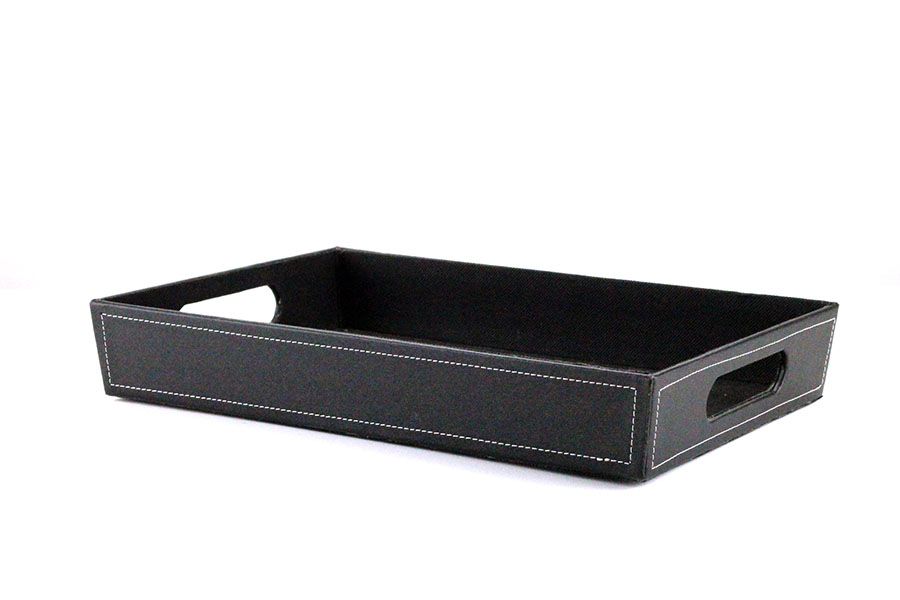 Fun with faux: This black leather tappered tray is buttoned-up chic. Put it to work collect greeting cards from guests, holding champagne glasses or handing out confetti bags. 
Black & white cake? Why not? Elegant doesn't mean stuffy--for a tongue-in-cheek approach to a wedding cake try a tower of oreos as showcased in this Emmaline Bride blog post. It looks stunning while being fun at the same time. Oh, and don't forget the picture of cold milk!
SUGGEST THIS TO YOUR FAMILY: An Egyptian tradition requires that the family of the bride cook all of the mails for the newlyweds for a whole week after the wedding ceremony. Sweet!
Boho Wedding Bash
If you adore the free spirited, layered and colorful Boho style, then by all means use that as your theme. 
Keeping the Boho sensibility in mind when you select containers for your wedding, you might choose…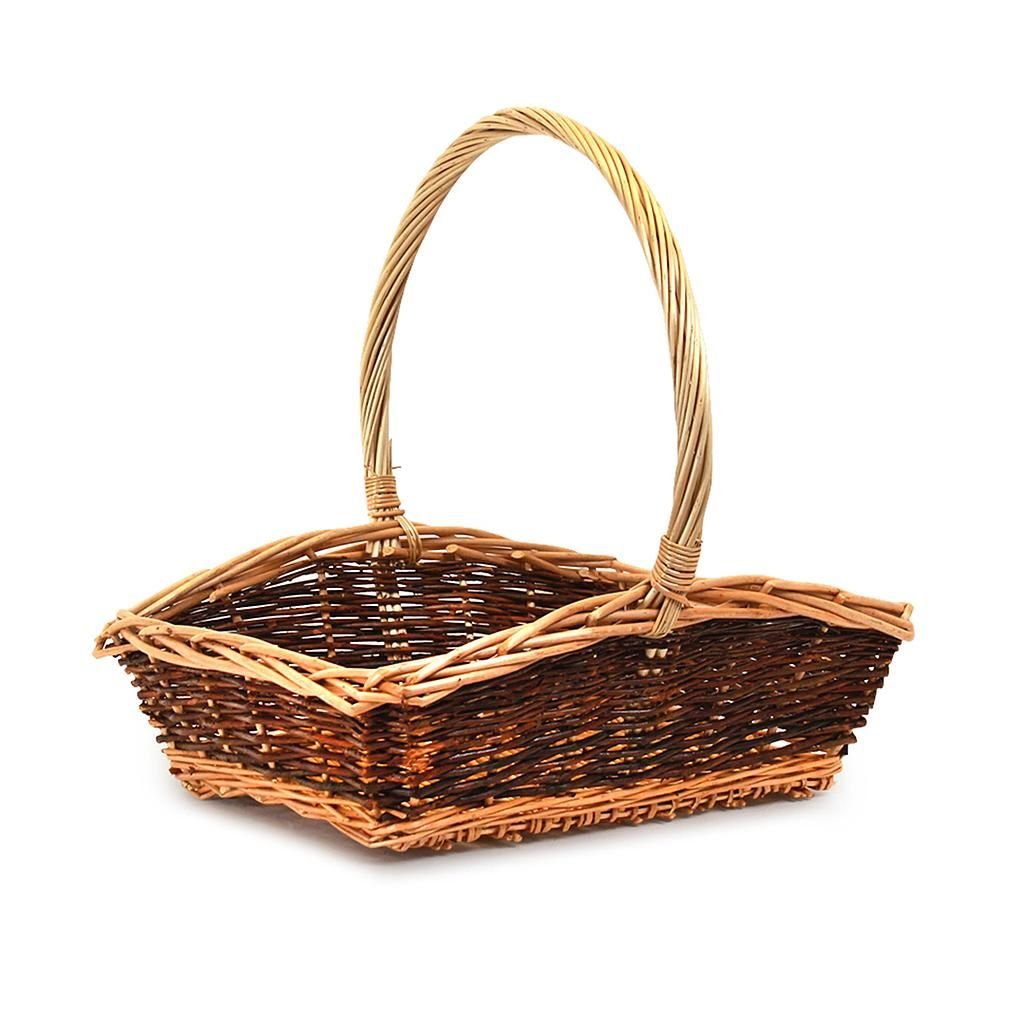 Flower girl basket: A classic fruit basket, like this one, will fit perfectly. Can't you just picture your sweet niece in flowing dress and floral crown, swinging the basket and dropping daisy petals and sprigs of myrtle along the aisle? 
WELSH WAYS: Speaking of myrtle, did you know that in Wales, bridal bouquets contain sprigs of myrtle, a symbol of love? After the ceremony, the bride gives a cutting to each of her bridesmaids to plant, and it's believed that the first sprig to sprout indicates that bridesmaid will be the next to marry. 
Bags to hold confetti/bird seed/flower petals: This Etsy seller makes delightful "Toss with joy" bags that will set everyone up to send off the couple with Boho abandon.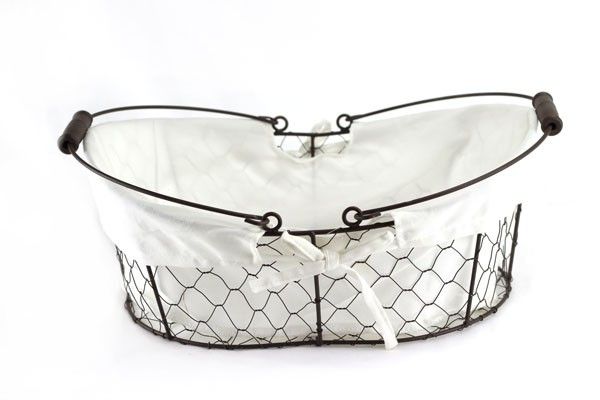 Containers for flower arrangements: Boho is all about different textures, so why not use these eclectic wire baskets, filled with wildflowers, as table centerpieces?

RESOURCES: Party planning with Boho flair in mind is a blast!
For additional inspiration visit Bianca Lambert's post, "4 Trendy Spring Party Ideas to Inspire Your Next Soiree." 
For a look at Boho weddings Aussie style, check out this post from The Wedding Playbook. 
TIP: Of course you want your guests to have fun and be comfortable at your wedding. What about the weather? If your wedding and reception are going to be outdoors, and events will go on—rain or shine—you might want to provide some things that will contribute to the comfort of your guests. Such as a big basket or crate to hold rolled-up throws, in case the temps dip into the chilly range. Put a sign nearby that reads, "To have and to hold, and in case you get cold."Or if the forecast is for mist or rain, fill a tall basket with clear umbrellas. 

Hot sun predicted? Set out some sunscreen alongside the guest book. 
Another item that shows you have your guests and their comfort in mind: a basket filled with flip flops in various sizes , with a sign that says, "Dancing shoes." It'll encourage your guests to kick off their heels and have a good time!
Asian Sophistication
Maybe you choose this theme to honor your heritage or maybe it's because you are a fan of the serenity and harmony of Asian style. Or maybe you're planning a destination wedding in Hong Kong? At any rate, there are lots of ways to get creative with this theme. 

Bamboo steamer centerpieces: Compact, earthy and subtle, these "containers" make lovely, out-of-the-ordinary centerpieces when filled with greenery and simple flowers. You might choose lilies, which are favorites at Chinese weddings because the Chinese word for lily is associated with a proverb that speaks of a "happy union for one hundred years."
For an eye-catching addition to the flower arrangement, add some Double Happiness chopsticks.
Available in black, white and red (traditional Chinese color of happiness, vigor and life). 
TIP: Try this fascinating new send-off trend: forgo the confetti-throwing routine and replace it with Chinese Wishing Lanterns. These small hot-air-balloon lookalikes can be customized by guests with special wishes for the couple,than floated aloft into the night sky. It's a visually stunning way to close out a reception and send the bride and groom on their way. (To guarantee the event goes off without a hitch, read these safety guidelines.)
Unique for the bridesmaids:
Chinese sandalwood folding hand fans provide an elegant touch, with a price tag that comes in a lot lower than floral bouquets. 
Why Not Whimsy?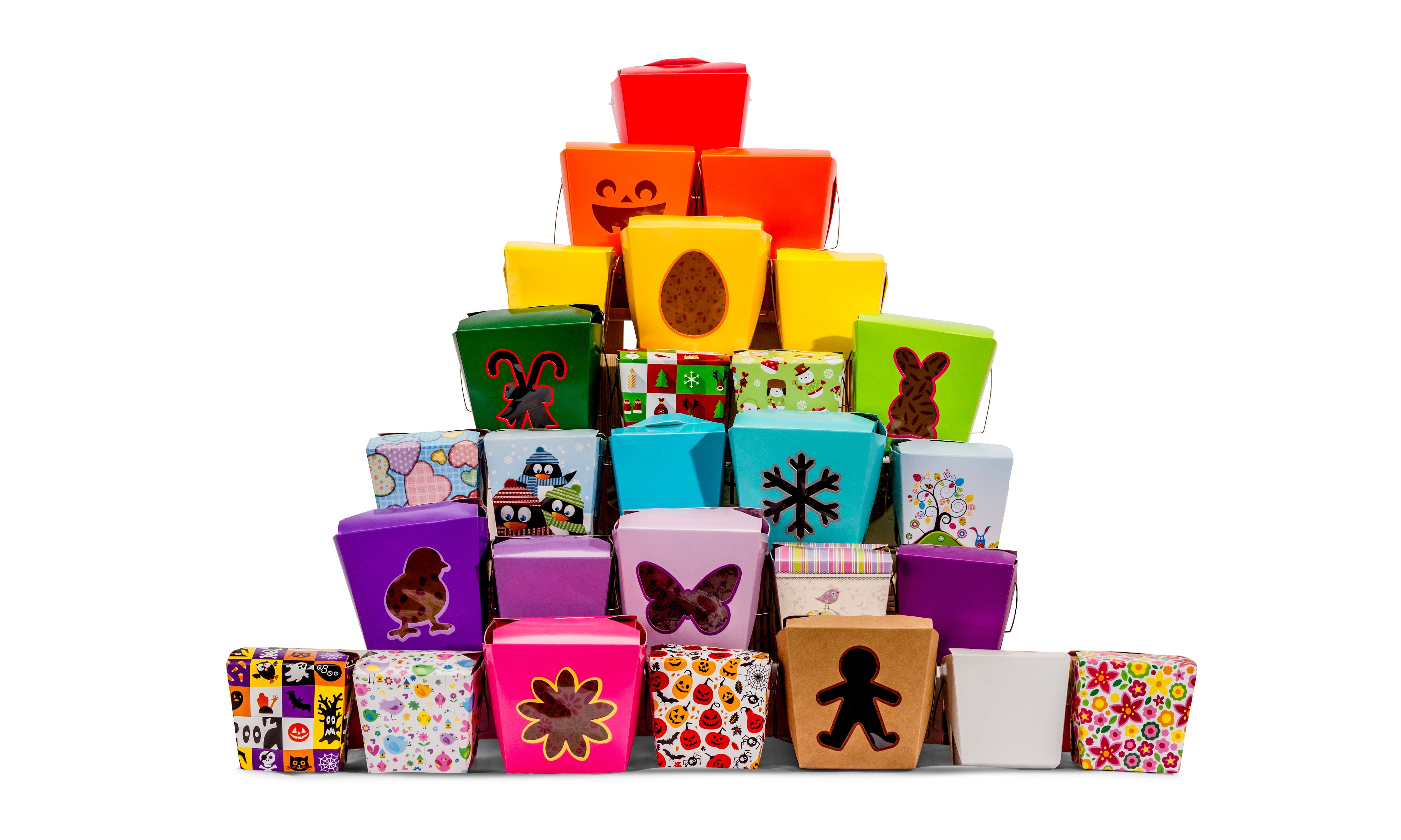 Maybe your idea for your wedding is more about exuberance than about lace and roses. Then your containers should be just as bright and lively. We can help with that. 
Boxes for wedding favors: These classic Chinese take out boxes with wire handles are available in a wide range of colors and designs. Fill them with candy, mini bottles of liquor, makings for s'mores (for the late night campfire)—whatever you want. These boxes are just plain fun!
Wedding Welcome gift box: Pack a visual punch by stashing items in these Woodland Whimsy gift boxes. Tuck everything down into some colorful crinkle cut shred for extra fun. 

Metal mania: Here's something fun—use a metal bin (with handles and "Cheers" on the side) to present toasting flutes to wedding guests. 
Product image: 
TIP: Make your wedding guests feel welcome from the minute they arrive. Chances are you can't be there personally to greet them, but don't worry--a Wedding Welcome gift is the perfect stand-in. 
There are lots of ways to put these together, but the most important thing is to think about the comfort of your guests. Throw in some fun surprises too. Just a few of the things that can go into the welcome goody bag are:
Bottled water (especially good in warm climate venues);

Pack of tissues (for the "I always cry at weddings" type);

Locale-specific information, including brochures, coupons, maps, etc.—anything that will help them enjoy the wedding location even more;

Snack items that fit with your theme or wedding location, such as Cape Cod potato chips, or whimsical tins of Hello Kitty cupcake candy. Too Haute Cowgirls has bags with a divine mix of caramel corn & nuts that would be ideal for a ranch wedding; 

Sunscreen, lip balm, band-aids, Alka-Seltzer—your guests will thank you for these!

Packet of wildflowers of the kind that surround your prairie locale, or forested retreat;
READ ON: For more ideas on what to put in your Wedding Welcome gift bags, read this post from Marigold & Grey.
A canvas tote often makes a good catch-all for these items, but with your theme in mind, you could also use one of Almac's gift basket boxes—there are tons of styles and colors to choose from! 
THE PARTY LIVES ON…
The wonderful thing about these containers is that many of them they can stay with you, long after the ceremony, to be used in new ways and to remind you, always, of your special day. 
A handled basket can be used to stack diapers in a nursery or gather herbs from the garden;
A wire basket which once held flowers can be repurposed into a box for dog toys or a container for kitchen utensils;  
A bamboo steamer changes from a greeting card basket back to its original purpose--steaming food; 
A faux leather tappered tray becomes your home office in box or magazine holder. 
A metal bin with "Cheers" on the side houses your liquor supply.
"Love is a friendship set to music."
At Almac Imports, we want to wish you all the best in your marriage. And because we know how stressful wedding planning can be, we promise we'll do our best to help you in any way possible. 
Whatever your theme, whatever your style and whatever your budget, we have the containers you need for your big event. 
Almac is a family business. For the last 54 years we've been a major importer, wholesaler and distributor of baskets, boxes, containers and packaging supplies. We've seen our share of weddings and we'd love to help you with yours! 
For inspiration on the containers you need for your wedding and reception, visit our website today.